Trageschule UK – Building on Experience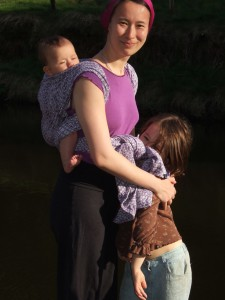 The Trageschule UK is a babywearing school. Our courses lead to a qualification as a babywearing consultant.
At the Trageschule UK we are building on nearly 20 year's experience. Trageschule courses have been tried and tested in over 15 countries and have been developed to adapt to each country's specific needs.
Our courses build on the experience that our consultants already have. Every participant comes to us with a different knowledge and backgrounds.
Our courses aim to enable each participant to use their own personal knowledge and combine it with the Trageschule knowledge so they can pass it on to the next generation of parents.
We have been working with Ulrike Hower of Die Trageschule Dresden ® to develop our courses, and, as other consultants of Die Trageschule Dresden ®, we aspire to embrace the following principles both in our work with course participants, and parents.
– Believing in Individuality
– Empathetic Listening
– Clear, Exact and Creative Methods for helping others learn
Trageschule's commitment to quality and excellence also means that consultants are required to keep their skills and knowledge up to date by continuous professional development.
Join for our Mailing List
Sign up to find out what is going on at Trageschule UK and be the first to find out about our up and coming Babywearing Consultant courses!